Guess who's back. Back again. Contest's back, tell some friends!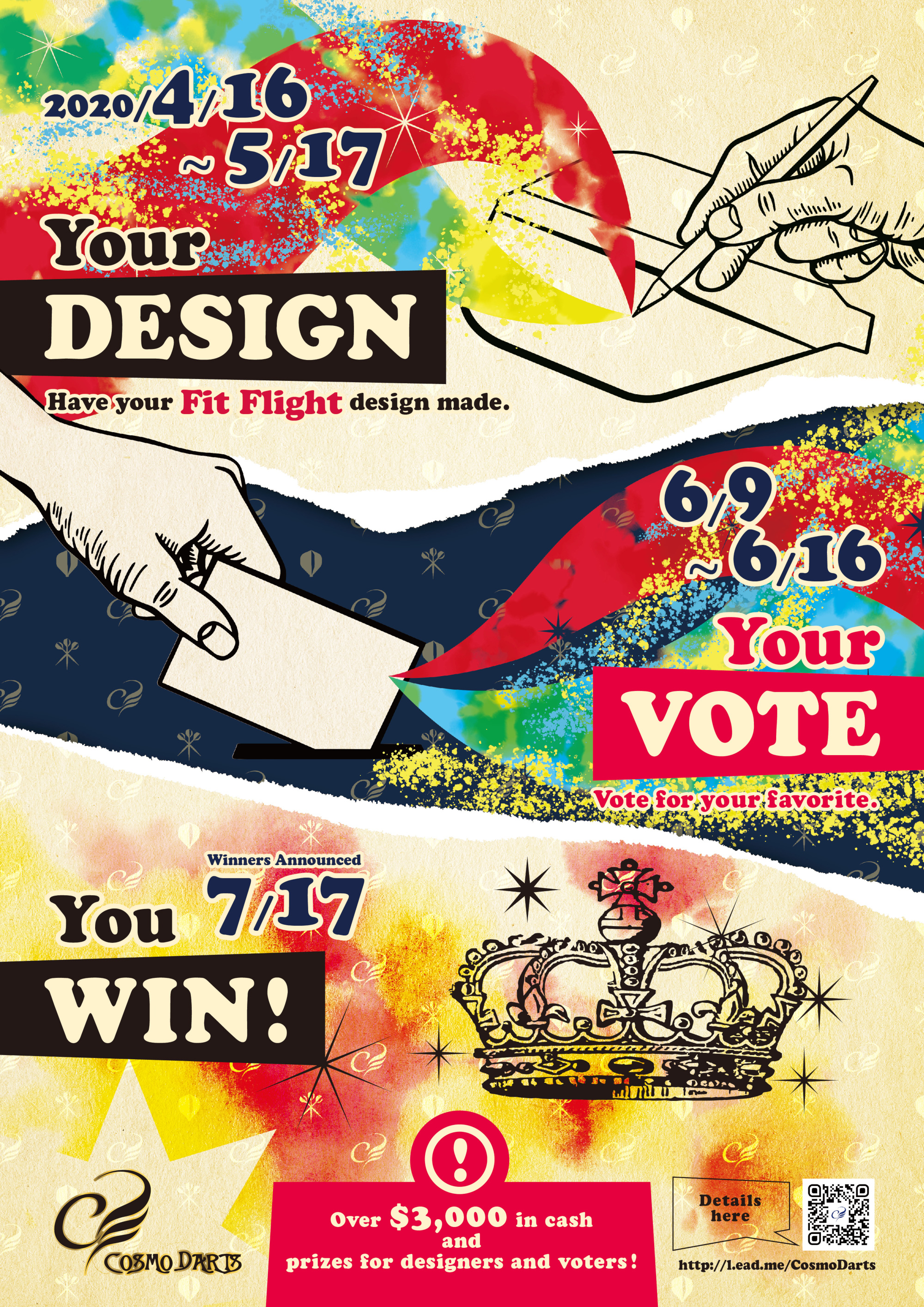 Thanks to your wonderful reactions from last year, our Design-Vote-Win contest is back for another year!
We've touched up the prizes and the rules and even added a little something extra for our SNS followers! This year there will be a total of 15 winners (9 from the contest and 6 from our SNS followers)!! Share this and you may win!!
In case you missed it last year, we're opening up to you all and asking for you to tell us what design you want on your flights! 3 lucky winners will have their design actually produced and sold along with winning ¥30,000 and getting an all access pass to our catalog and choosing the dart setup of their choice! Entries will be accepted from April 16th to May 17th.
In round two, we present 9 finalists for all of our fans out there to choose which 3 they would most likely buy. Then from all the voters, we'll have a lucky draw and 3 people will get a set of flights of their choosing from the winning designs and 3 more even luckier winners will get the set of flights the voted for and a dart setup of their choice. Voting will take place from June 9th to June 16th. (For exact prize details please check out http://events.cosmodarts.jp/design/)
This year, we'll also print the design on our new Case X just for the winners! Only two people in the world will have it, the designer and one lucky guy!
To top it all off, we want to show our thanks to all of you who share this message! Share this, retweet the tweet or like the Instagram post during the design phase (2020/4/9 ~ 2020/5/17) of the contest and you'll be entered to win the following prizes:
A set of flights of your choosing from our current stock
A nifty case to hold them in. (Case D!)
A tumbler to toast your victory
Our commemorative 2019 Constructor's #1 DARTSLIVE Card (Cosmo Darts)
A Cosmo Darts hand towel
A T-Shirt of your choosing
And a Tote bag to carry it all in!
Timeline:
2020/4/16 ~ 2020/5/17 Design Entries
2020/5/25 Round 1 SNS Prize Winners Announcement
2020/6/9~2020/6/16 Voting Stage
2020/6/23 Round 2 SNS Winners Announcement
2020/7/17 Contest Winners Announcement
To enter and for more details, please check out http://events.cosmodarts.jp/design/